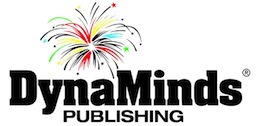 My publisher is DynaMinds Publishing.
Chuck and I started in the publishing business over 35 years ago when we produced our first educational game about farming, called A.G.G.I.E. That international experience gave us the confidence to expand into the educational publishing business.

Today, DynaMinds Publishing specializes in educational books, comic books, and games. Most of these are sold in bulk quantities to banks, credit unions, brokerage firms and others interested in financial education.

We also do custom publishing. The way that works is you, your association or business requests concepts, including content, design and printing estimates. We then create a unique product for you, which shows up on your shipping dock. A recent example is the
Be Money Smart
comic book written and produced for the Federal Reserve Bank of Chicago, which has been part of school outreach programs.

You may find addition information on the
DynaMinds Publishing website
. Some of our products can be imprinted with logos. Below are a few samples.