Programs Packed with Ideas, Insights and Energy - Focused on Solving Financial Illiteracy


Author/speaker: Joanne Seymour Kuster


Joanne is a veteran writer and business journalist, recognized for her ability to make complex topics easily understandable. Her most recent children's book,
Entrepreneur Extraordinaire...Grandpa Helps Emily Build A Business
is her second on financial education. Seymour's award-winning
Stock Market Pie...Grandma Helps Emily Make A Million,
garnered national acclaim for the way it makes stock investing easy to understand.
Joanne approaches financial education with a mother's wisdom. She believes that parents have a leadership role in instilling good money management skills and behaviors. Much of Joanne's content focuses on how to recognize those "money moments" and how to keep a child engaged.
Author Talks and Seminars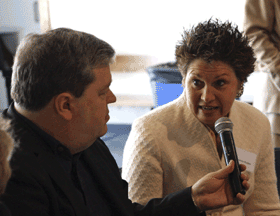 NEW !
Topic:
Put "Family" Back into Financial Education
Joanne shares her step-by-step plan on how parents can build and implement a financial education program. This speech features her
"Save Yourself" platform
and is suitable for parent groups, PTAs, and home school association meetings.

NEW!
Topic:
How to Nurture Entrepreneurial Children
Joanne shares insights into the minds of young children as they explore the idea of becoming an entrepreneur. "Our educational system prepares children to work for others or to attend college. But the idea of becoming your own boss and starting a business is seldom discussed. This speech discusses how to recognize entrepreneurial traits and provide children with the information and experiences they need to consider this career option. Joanne also does a similar session for adults who want to be entrepreneurs.
TESTIMONIAL: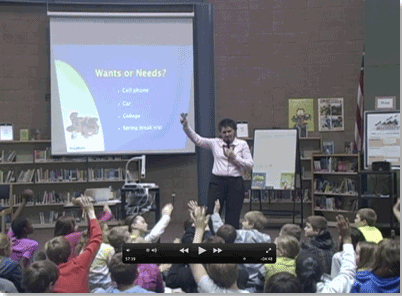 Joanne Seymour Kuster is a money expert! "Joanne's presentation links to the Iowa Core Curriculum and 21st Century Skills that focus on students' learning of financial literacy concepts that will enable them to succeed in a complex global environment.Mrs. Kuster has the students think about ways they could be entrepreneurs and how they might want to spend or save their money. Joanne involves the students in role-playing, financial choices that parents might have to make with their children. She gives an eye-opening example of the power of saving and investing early in our lives. Mrs. Kuster created a "Wants and Needs" Game which is a financial educational tool. Because we purchased multiple games, we divided in small groups to get all students involved in making and defending their choices on what they considered a want or a need. In short, Joanne gave an interactive presentation on spending, saving, earning and eventually investing." Cindy Tuttle Teacher /Librarian Summit M.S.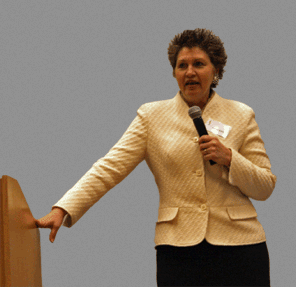 Topic:
How to Turn Young Spenders Into Savers
Parents and grandparents can have fun teaching children good money management skills. Author J.M. Seymour shares her practical insights and ideas. This is a popular talk for investment clubs and other groups that want to hear the latest tactics to raise money-smart kids.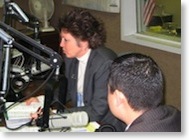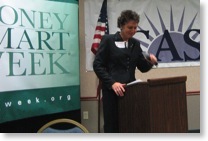 Topic:
Money Rocks!
This program was designed specifically for libraries wanting a program about money and using library resources. Geared toward upper elementary or middle school youth, this program shows how learning to be rich starts with reading and detective skills.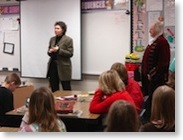 Topic:
Who Wants to Be a Millionaire?
Make money a hot classroom topic. Author J.M. Seymour has created clever strategies and resources that teachers and parents who home school can use to teach about money and investing.. It's ideal for home school conferences and retreats.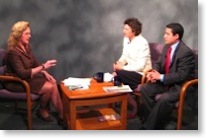 Topic:
How to Talk About Money So Your Kids (and Grandkids) Listen
Millions of American teenagers face financial hardship as adults because they didn't learn how to save and invest early. Author J.M. Seymour shares how parents and grandparents can avert a family crisis by teaching good money habits soon enough.


Topic:
So, You Want to Be An Author?
School children love books and hearing authors talk about researching, writing and producing books. Author J.M. Seymour weaves an interesting tale of her experiences as an author and writer, including the challenges and rewards. Perfect for schools and libraries seeking to expand children's appreciation of books, writing, and the entrepreneurial process of getting published.
Contact us:
Joanne Seymour Kuster is available for speeches and workshops. To discuss topics, scheduling and rates, call 515-270-5315 or email via the
Contact Us
page.